"Education has this objective — the formation of character."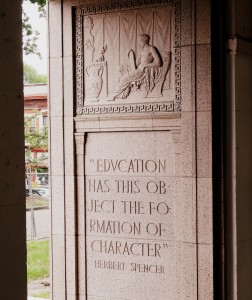 I noticed this Herbert Spencer inspirational quote  at Washington High School project and wondered about it and his life. He was an interesting Victorian character who originally thought he might be a teacher and then had a plan to start a school. He ended up only teaching for three months. Self-educated, Spencer contributed to the pool of knowledge during the 19th century as a pioneer in psychology and sociology. His theories on education were controversial for the time, but in recent years his legacy is being rehabilitated–perfect for Washington High School.
–Carolyn Pantier
If you  want more information on Herbert Spencer, please check out these links.
http://www.ibe.unesco.org/publications/ThinkersPdf/spencere.pdf